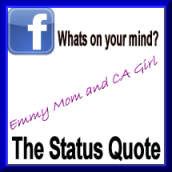 THIS IS SPARTA! Kick! -

(love his posts!)
can't believe today was my due date but instead we're taking our 6 day old little guy to his first doctor appointment :)
there's a woman preaching on the 86 crosstown....does she count as a personal Jesus?

(lol for some reason preachers like trains)
Can't wait for the WALL tonight!!!!

(totally want to see them now! Martin went with his friend and couldn't stop talking about it!)
couldnt think of anything clever to write this morning :(
Goodmorning. GYM TIME.
I sat in the front row for the first two concerts. I can't even explain what kind of ridiculous mood I'm in. HOLY EFFING EFF. Tons of pictures/video to come.
Dear Winter, it's been a blast, but I think you've overstayed your welcome already. Kthnxbye.
Did you spot the Observer in last THU's Fringe? Look again –

http://youtu.be/cadKH2e7E1o




(love Fringe!!)
I haven't lived with my sister since I was a teenager. I rarely get to see her. Yet, I'm feeling sad that she is leaving in a few days to travel out of the country. Have an awesome adventure and be safe Bubbs! I'll miss you!
can't believe that I will finally be holding my little man in my arms tomorrow :*)